Perfect Summer Sides
Memorial Day is right around the corner and that means that the Summer season is here! Thank God, btw. Obvi, your social calendar is starting to fill up with park moments, picnics, BBQs, and parties, and you need to be ready! Also, you need to keep it cute in your red bikini, so here are some recipes that you can share with your friends (or eat all by yourself, no judgment here!), that everyone is guaranteed to love, all while looking fierce all summer long.
All four of these dishes, I made in an hour, so that tells you how easy they are. I can't be doing the most, I need to be soaking in the sunshine, people! And while I call these "sides", they all go together to make a perfect meal. And all plant based, duh!
Not Your Mom's Potato Salad
Fresh, light, and keeping it cute.
This potato salad is INSANE. It's like yikes, I'm gonna eat the whole bowl myself, insane. Make this potato salad! It's totally foolproof, so even if you think potato salad sounds tricky, it ain't. Also, this isn't your mom's potato salad (sorry mom). It's not that heavy, thick, fatty dish that we remember. This is fresh, light, and perfect for a hot day!
Ingredients
2lbs small white potatoes
1/4 cup chopped fresh basil
2 Tbsp chopped fresh dill
1 Tbsp chopped fresh parsley
1/4 cup thin sliced red onion
1/3 cup pine nuts
Dressing
Juice of 2 lemons
1 Tbsp apple cider vinegar
2 Tbsp olive oil
1 Tbsp dijon (I used grainy mustard)
2 tsp salt
1/4 tsp garlic powder
Directions
Drop potatoes into boiling salted water and boil for 20-30 mins, until potatoes are fork-tender. While potatoes are boiling, wisk together dressing ingredients, chop herbs & onion, and set aside. When potatoes are tender, drain and let cool enough to handle. Then slice potatoes about 1/2 inch in thickness, or as desired. Toss with dressing, herbs & onion, and pine nuts. *Occasionally potatoes will drink up dressing, so an extra drizzle of olive oil and/or extra salt may be required. Enjoy!
So this salad is such a Summertime staple for me. It's literally Summer in a bowl and EVERYONE loves it! I love to use fresh corn because it's so damn good and in season in the Summer, but canned corn could totally work too. The beans add flave and protein, and the cabbage & bell pep have so much crunch! And I wouldn't even dare without adding avocado, I mean who do we think I am?! So be prepared to make this over and over again!
Ingredients
3 stalks fresh corn out off the cobb, or 2 15oz cans
1 15oz can black beans, rinsed & drained
1 cup chopped red bell pepper
1 cup thinly sliced purple cabbage
1/2 jalapeño, chopped (i removed seeds, but if you want more spice, keep them in)
1 avocado, diced
2 scallions, chopped
1/4 cup chopped fresh cilantro
juice of 1 lime
1 Tbsp olive oil
2 tsp salt
1/4 tsp garlic powder
In a large bowl, combine all ingredients! Enjoy!
But like, is there anything more appropriate for Summer?! Also, this is one of those dishes that sounds fancy, but even a dummy could make it, and everyone LOVES it. The hardest part for me was not eating the entire watermelon while I diced it up!
Ingredients
1/4 of a watermelon, or 5-6 cups diced watermelon
3 Tbsp chopped fresh mint
2 tsp honey
juice of 1 lime
pint of salt
Just cut it & combine it! Yummmmm!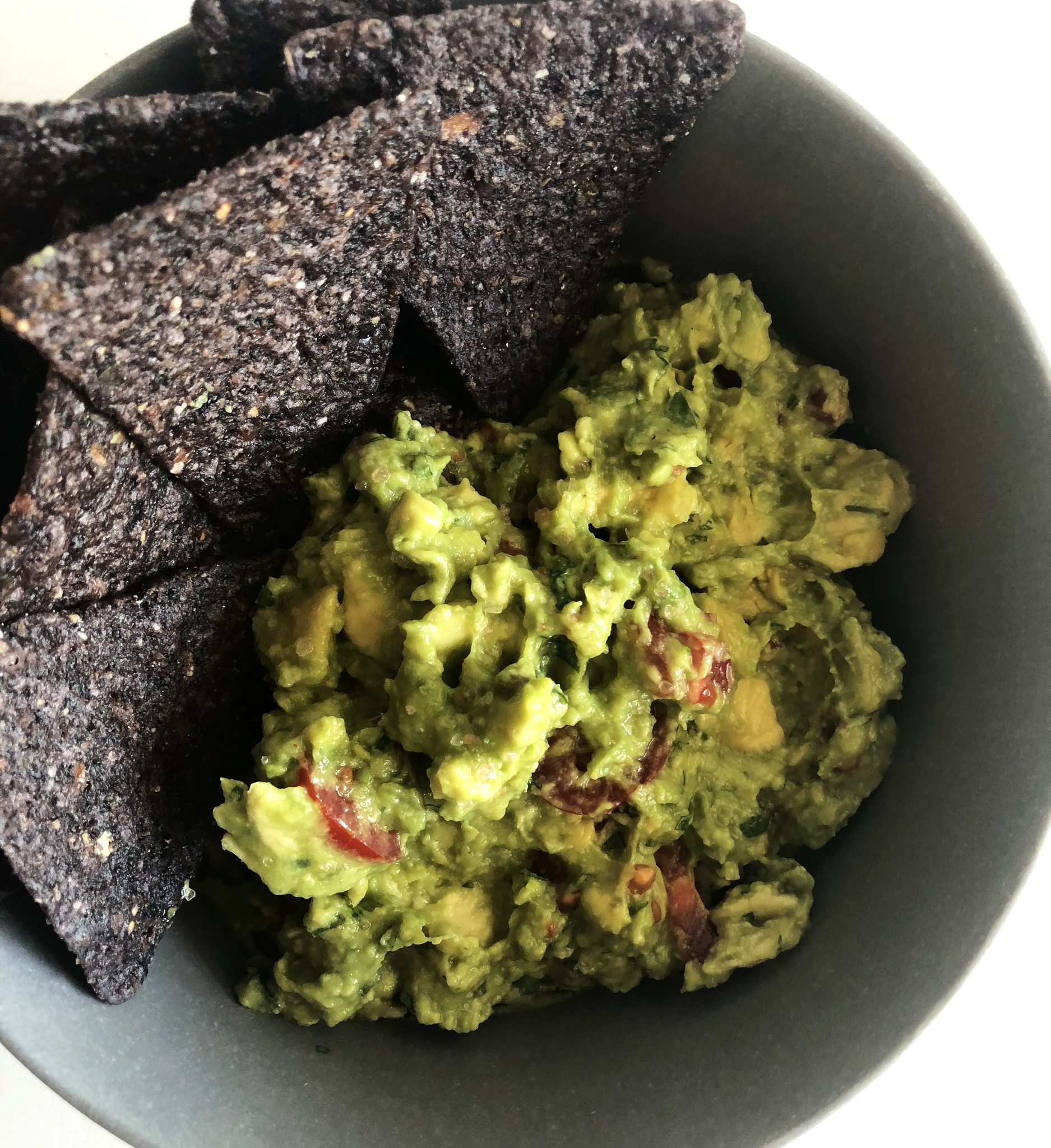 I kinda feel like I've been holding out, because if you ask me, my guac is THE BEST. Humbly, of course. And if you're human, having a go-to guac recipe is a MUST! So basically, I would say that this is a perfect recipe for 4 people, so do the math according to how many you're making for. Not gonna lie though, I could easily eat this whole batch myself, but that's just the kinda girl I am.
Ingredients
2 ripe avocados
1 clove garlic, grated or minced
1/2 jalapeño, seeded & chopped (if you want heat, leave seeds in!)
1/2 cup diced tomato (even cherry tomatoes work)
1 Tbsp chopped fresh cilantro
Juice of 1/2 lime
1 tsp salt
Chop & combine!